Replacement Windows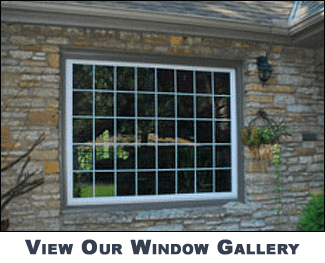 Euro-Tech is the authority on vinyl window replacements in the Chicago-land/Rockford area. Available in colors and wood grain finishes beautifully complementing any decor, from traditional to contemporary. Our replacement windows also offer many styles of decorative glass. Each decorative glass style maintains full insulating glass energy efficiency. Beveled-leaded, matching, narrow brass, Williamsburg and Georgian colonial grids are mounted between two panes of insulating glass to allow for easy cleaning. For added distinction, our replacement windows also offer beautiful Regal V-groove cut glass grids. Add our unique designer glass to a replacement window and get dramatic results. Choose classic, original or contemporary design styles and select from among ten stained class color choices to complement your home's decor.
Bay, bow, casement, garden or patio doors, whatever your need is the replacement windows from Euro-Tech with the Hi R+ glass package is sure to complement your home. New windows and siding for your home, is a large investment and we'll help you do it right from start to finish while offering the best prices in the greater Chicago-land/Rockford area.
Our Replacement Windows are the finest in the industry and come with a lifetime guarantee. New Vinyl Window Replacement from Euro-Tech can provide a significant R-value to your home, while lowering maintenance and clean time! Our replacement windows are durable, beautiful, and virtually maintenance free adding comfort and value to your home.
Click Here for a FREE Estimate and learn more about Special Savings opportunities!