The Window Replacement Experts at Euro-Tech Can Assist Homeowners in Hoffman Estates, IL & Surrounding Communities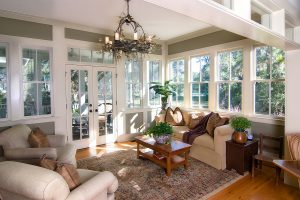 Whether you want a window replacement because your current windows are sticking, drafty, or just not as pretty as they once were, you can rely on the experts at Euro-Tech. Since our opening in 1992, we have assisted more than 20,000 homeowners in Hoffman Estates, Illinois, and surrounding cities, and we would love to add you to our list of happy customers.
When considering a window replacement for your home, you should consider installing energy efficient windows so that your home will feel warmer in the bitter Hoffman Estates, IL, winter and cooler in the summer. At Euro-Tech, our windows come from the well-regarded manufacturer, Great Lakes Window, and can be customized with any number of energy efficient features, including:
Low-E glass – These coatings reflect the sun's UV rays, so that they don't fade the color of your walls and furniture.
Double- and triple-pane glass – Multiple panes of glass effectively decrease heat transfer, which can minimize the strain on your HVAC system and possibly lower your energy bills.
Inert gas fills – Filling the space between your panes of glass with argon or krypton glass provides your windows with extra insulation.
Plus, all of our installers are factory-trained and -certified and have extensive experience completing window replacement services in accordance with the best-practice guidelines outlined by the manufacturer.
If you would like more information on our window replacement services, contact Euro-Tech today. We are proud to serve homeowners in Hoffman Estates, IL, and neighboring areas and offer convenient financing options to qualifying residents.