Window Installation Provided to Homeowners in Libertyville, IL & Neighboring Communities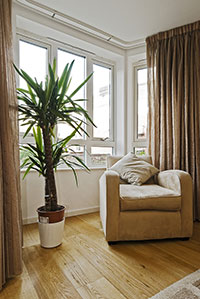 When in need of window installation, homeowners in Libertyville, Illinois, and the surrounding areas have trusted Euro-Tech since 1992. We are a company that is committed to earning our customers' total satisfaction, which is a fact that is supported by our A+ rating with the Better Business Bureau.
Homeowners in Libertyville, IL, and the surrounding areas that choose to partner with Euro-Tech for their window installation can expect:
Reliable products – We provide vinyl windows that have low maintenance requirements and are exceptionally energy efficient.
Expert installation – Our installations are carried out by trained and experienced professionals who are familiar with best-practice guidelines for window installation.
Exceptional service – We strive to provide our customers with the most beautiful, low maintenance, durable, and energy efficient windows on the market.
There are many benefits that can come from having new windows installed at your home. For one, new windows can give your home more curb appeal and set it apart from the others in the neighborhood. Newer windows can also reduce the amount of heat transfer that occurs into and out of your home, which, in turn, can reduce the amount of work required by you HVAC system to maintain a comfortable interior temperature and potentially reduce your monthly energy bill.
For more information about the window installation services that we provide, contact Euro-Tech today and one of our knowledgeable representatives will be glad to assist you. We proudly serve homeowners in Libertyville, IL, and many surrounding communities.