The Best Siding Contractors in the Libertyville, IL, Area Work at Euro-Tech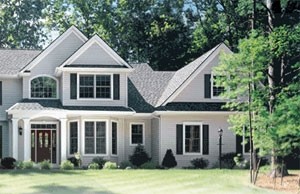 It may be time for siding contractors to come and perform a replacement or repair service at your Libertyville, Illinois, home if you've noticed any small holes or cracks in your siding. While these imperfections may not seem like a huge deal, ignoring them could potentially cause damage to our entire home. Holes in your siding can provide an entrance for termites and moisture to compromise your siding's ability to protect your home. If you're worried about any damages on your siding, call the siding contractors at Euro-Tech. When you choose to work with us, you can expect:
A free in-home consultation at your Libertyville, IL, home where we will thoroughly educate you about our products and learn what you want in terms of look and function from your new siding
A comprehensive and accurate project quote
A skillful installation by our factory-trained and -certified siding contractors who are well-versed in the manufacturer's best-practice installation guidelines
A clean and tidy work area during and after your installation
In addition to our impressive workmanship and services, we also offer two incredible types of composite siding: Mill Run and Everlasting Cedar. Both types of siding are seamless (to boost curb appeal and eliminate any gaps for moisture and bugs to enter) and are durable and low maintenance. They will also never crack, warp, or fade and are resistant to damage from insects, impact, and tempestuous weather.
To learn more about the services our siding contractors can provide, contact Euro-Tech today. We proudly serve homeowners in Libertyville, IL, and neighboring communities.