About Us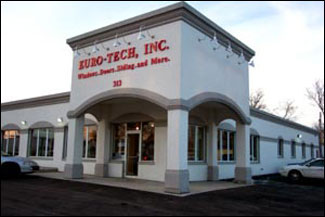 Euro-Tech Inc. has been the Midwest's premier home improvement company for over 20 years in replacement windows, entry doors, vinyl siding, attic insulation and roofing. We only provide the highest quality customer service and installation available in the home improvement industry. Our portfolio includes some of the most technically advanced products available in the industry, and we have an outstanding in-house service department to take care of any issues that may arise. There are also Manufacturer's warranty's up to the Lifetime of your home, depending on the products. With Euro-Tech, you'll receive the best service and the highest quality without sacrificing beauty and aesthetics. We guarantee our products, if any part fails, we can be there to help. We don't try to make money off of our service dept. We just try to cover our costs of having a full time service van on the streets. We believe in customer satisfaction, and stand behind our products and the craftsmanship of our installers. Just ask any of our 20,000 Chicago-land, Milwaukee and Rockford customers. Home improvement costs represent a major investment for our customers; they don't want to have to spend more hard earned money down the road to make the same improvements again. We stand behind our products.
In addition: Euro-Tech offers replacement vinyl windows available in colors and wood grain finishes beautifully complementing any decor, from traditional to contemporary. Our vinyl siding can save you money on energy costs, make your home up to 45% quieter, add beauty and value to your home, without you ever having to scrape or paint again!. Our Protect the Deck Roofing System very simply, is the way to install a roof, period!
If you're a homeowner anywhere in Chicago-land/Rockford, looking for new replacement windows, vinyl siding, entry doors, attic insulation or roofing for your home, don't buy until you've personally visited with one of our specialists. Call us at 800-215-8712 for an in-home consultation, or visit our showroom at 313 West Irving Park Rd. Bensenville, Illinois 60106 or to request more information about our services and products, fill out an information request form today! New replacement windows and vinyl siding and roofing for your home is a large investment and we'll help you do it right from start to finish while offering the best prices in the greaterChicago-land/ Rockford area. Our Replacement Windows, Insulated Vinyl Siding and PREMIER ROOFING SYSTEM is the finest in the industry and comes with a lifetime guarantee..