Euro-Tech Out-Roofs Other Roofing Contractors in Hoffman Estates, IL & Surrounding Areas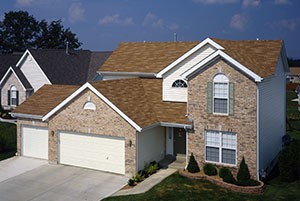 There are many roofing contractors in Hoffman Estates, Illinois, and the nearby areas, but there's one that stands above the rest – Euro-Tech. As a full-service exterior remodeling company that was founded in 1992, we offer decades of hands-on roofing experience. We use our knowledge to help our customers pick the best roofs for their homes, which is part of the reason why we maintain an A+ rating with the Better Business Bureau.
Unlike many other roofing contractors who might install any kind of roof under the sun – be it good or bad quality – at Euro-Tech, we take great care to offer what we believe to be the finest roofing available to homeowners in Hoffman Estates, IL, and other nearby areas: The Heritage Woodgate Laminated Asphalt Shingle. This roofing material offers many great benefits. For example, it features:
A beautiful wood-shake design that can add an element of sophistication to any home
Two layers of fiberglass mat for strength
Weathering-grade asphalt topped with ceramic granules for protection from erosion
A stress-relieving 30-year warranty
Another reason Euro-Tech stands out from other roofing contractors in the area is that, when we install a roof, we want to do it right the first time. That's why our installations are carried out by trained industry professionals, and it's why we install a waterproof underlayment so your roof remains protected.
Contact Euro-Tech today if you would like to learn more about how our company stands out from other roofing contractors in the area. We are proud to be the exterior remodeling expert of choice for many homeowners in Hoffman Estates, IL, and the surrounding communities.