Roof Repair Service Provided to Residents of Naperville, IL & Surrounding Communities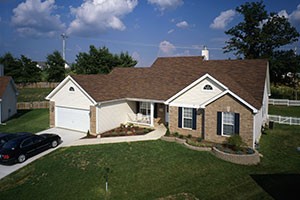 If you're looking for a roof repair service for your home, turn to Euro-Tech. We've served residents of Naperville, Illinois, and the surrounding areas since 1992 and have more than 100 years of combined experience in the exterior remodeling industry. We offer free consultations so we can discuss your roof repair project in detail, and we'll provide you with the professional insight and recommendations you need to have your roof repaired quickly and expertly. Thanks to our commitment to our customers' satisfaction, we've been able to earn and maintain an A rating with the Better Business Bureau.
In addition to roof repair, Euro-Tech provides a full reroofing service to homeowners in Naperville, IL, and the nearby areas. We have an exclusive roofing system – Protect the Deck® – which combines a waterproof underlayment with the benefits provided by TAMKO's WoodGate shingles. These benefits include:
Aesthetic appeal – WoodGate shingles have a unique blend of colors, a wide cut, and enhanced shadow lines to mimic the beautiful look of traditional wood shakes.
Durability – These asphalt shingles are composed of weathering-grade asphalt, ceramic minerals, and a double layer of fiberglass mat for added strength.
Peace of mind – These shingles come backed by an industry-leading 30-year warranty to protect your investment.
At Euro-Tech, not only do we provide exceptional service and products, but we also are committed to excellence when it comes to craftsmanship as well. No matter if you choose us for roof repair or for a completely new roof, you can be absolutely certain that your installation will be carried out by trained and experienced roofers.
For more information about the roof repair and reroofing services offered by Euro-Tech, contact us today to schedule your free consultation. We proudly serve residents of Naperville, IL and other nearby areas.