Garden Windows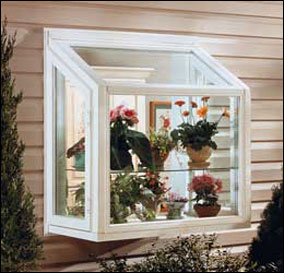 Your kitchen can bloom year-round with beautiful flowers or lush plants. UniFrame's garden window adds sunlight and warmth. You'll grow to love your garden window more each year. Learn more with a free estimate today!
Crafted with elegant detail.
Tempered glass interior shelf adds space for plants (standard on units under 50″ wide — units over 50″ wide include a coated wire shelf).
Available in white, camel or earthtone to complement your home.
Optional DuPont Corian® seat adds durability.
Built for maximum security.
Operating trapezoid casement side panels feature easy-to-operate, easy-to-reach, multi-point locking system.
Engineered for energy efficiency.
Optional polyurethane insulated seat adds energy efficiency. This option is strongly recommended.
Our Hi R+Plus multi-layer vacuum-deposition soft-coat Low-E glass series allows you to choose from among the best insulating glass systems available.
Designed for maintenance freedom.
Extra-thick uiPVC vinyl is completely maintenance free.
Extra thick uiPVC has color that's solid throughout…no painting or scraping — ever.
Optional Easy Clean Glass needs cleaning half as often — with half the effort of ordinary window glass.
Performance guaranteed to last.
Stainless steel hinges will never rust, so they'll always look new.
Fusion-welded strength for added durability.