Beautiful Front Doors Installed for Homeowners in Freeport, IL & Nearby Areas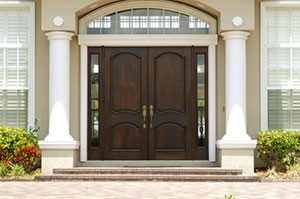 Euro-Tech is a full-service exterior remodeling company that has been installing front doors for homeowners in Freeport, Illinois, and the surrounding areas since 1992. We install entry doors from one of the best manufacturers in the industry, Home Guard Industries. These doors are designed to be secure, long-lasting, and completely customizable.
Some of the many ways in which the front doors we install for homeowners in Freeport, IL, and nearby areas can be customized include:
Style – Our doors are available in 26 different families of styles. This gives you an almost endless set of choices when combined with Color and Finish.
Color and finish – Our doors can be painted in one of twenty decorator colors or seven hand-applied stain finishes. You can make a WOW entrance. Be the envy of all of your neighbors!
Glass styles – Choose from our wide selection of glass styles to find the perfect look for your home. You design it and we'll get it made and installed. How does that sound?
Hardware – Add functionality to your door with a peephole, knocker, kick plate, or mail slot.
While a door's design is extremely important, so too is its construction. The front doors that we install are either made of 22 gauge steel or sturdy fiberglass, helping with home security and maximizing durability. Install an new entrance once then never mess with it again. Just sit back and be proud.
At Euro-Tech, we are committed to customer satisfaction. We will be happy to provide you with a free, no-obligation consultation to discuss the type of door that you would like to have installed at your home. Call us at 800-215-8712.
For more information about the front doors that we install, contact Euro-Tech today. We are proud to be the exterior home remodeler of choice for homeowners in Freeport, IL, and the surrounding areas.