Exterior Front Doors Available for Residents in Naperville, IL & Surrounding Chicagoland Communities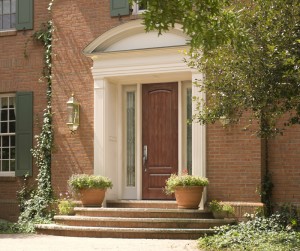 Exterior front doors are often the first thing visitors see when they come to your Naperville, Illinois, house, so why make any compromises when it comes to this part of your home? At Euro-Tech, we offer Exterior Front Doors manufactured by Home Guard Industries, where no detail related to beauty or security is ever overlooked.
Our exterior front doors are not only beautiful, but also completely customizable so you can design your door to complement your unique style of your Naperville, IL, home. Everything from the color of your door to the clarity of the glass and texture of the any glass elements can be tailored to create the perfect entrance for your home. We even offer additional hardware options such as mail slots, pet doors, and knockers to add further functionality to your door.
In addition to beauty, we also prioritize safety which is why we offer optional security add-ons such as:
A peep sight – See who's knocking before you choose to answer the door.
A burglar guard home viewer – A camera snaps a picture of everyone who rings your doorbell, even when you're out of your home.
A burglar guard strike – A heavy steel jamb protector virtually eliminates the possibility of forced kick-in entry.
When you team up with Euro-Tech, you'll not only receive a superior product, but a perfect installation as well. Our factory-trained and -certified technicians are always familiar with the manufacturer's best-practice guidelines so you can rest assured that your door will be installed the right way the first time.
To schedule a free in-home consultation during which you can learn more about our selection of exterior front doors, contact Euro-Tech today. We proudly serve homeowners in Naperville, IL, and the surrounding Chicagoland area. Call today 800-215-8712 you won't be disappointed in our quality or our very competitive pricing.