Durable & Attractive Exterior Doors Available to Homeowners Throughout the Libertyville, IL.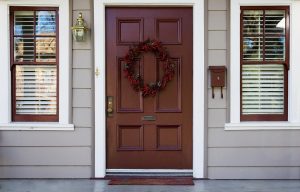 When you rely on Euro-Tech for new exterior doors for your Libertyville, Illinois, residence, you're choosing to team up with a company that is dedicated to providing customers with excellent customer service and the finest products available on the market. In fact, we have an A+ rating with the Better Business Bureau, which serves as testament to our track record of providing high customer satisfaction.
At Euro-Tech, we take pride in the fact that each and every one of our exterior doors is:
Safe – Our selection of safety features includes an 18-gauge steel frame, six pin locks, laminated safety glass, and deadbolt security plates. These features are all designed to create a door that will keep you and your Libertyville, IL, home as secure as possible.
Gorgeous – Available in 26 style families and a plethora of decorator colors and hand-applied stain finishes, your new doors will wow whoever comes to visit. Plus, we have a wide variety of hardware available to further customize your door, including handle sets, levers, mail slots, kick plates, and more.
Customizable – Whatever your heart desires, we can probably make it happen when it comes to an exterior door. Home Guard Industries manufacturers doors for Euro-Tech. Each one is a custom made, custom finished work of art. Our customers tell us what they want and we make it for them. There are no pre-fab, Big Box Store doors, sold by our company. You design it, you want it, we make it.
Additionally, all of our exterior doors are installed by our factory-trained and -certified installers who have the proper skills and experience to complete a flawless installation.
For more information on the selection of exterior doors we carry, contact Euro-Tech today to speak to one of our friendly associates and set up a free in-home consultation today. Call us at 800-215-8712. We are proud to serve homeowners in Libertyville, IL, and the neighboring areas.