Entry Doors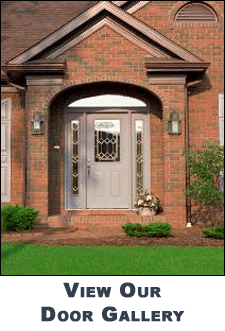 Euro-Tech has slammed the door on the competition in the Chicago/Rockford area. We offer 25 different paint colors and 12 different stain colors in more than 200 door styles. All of the styles are available with either a quick fit steel replacement frame or new construction wood or steel jambs. Euro-Tech's entry doors provide the kind of energy efficiency that can really contribute to lower home heating and cooling costs. Each Euro-Tech door has a solid high density polyurethane core resulting in an R-15.2 insulating value for entry doors without glass. That's five times better than wood doors and up to twice the R-value of many competitive doors. Euro-Tech's entry doors come in 25 standard paint finishes. Euro-Tech uses paint with the same scratch resistance as baked on enamel and ultra-violet blockers as the finest latex. Choose from 12 standard stain finishes. All Euro-Tech door finishes have a five (5) year limited warranty. Available as a clear door glass option, Low-E glass is made with an invisible thin metallic coating that blocks heat flow. A proven energy saver, Low-E glass reduces air conditioning costs by reducing solar transmissions in the summer. In winter, it reduces heat loss to the outside and allows solar energy to pass inside.
Sliding Patio Doors from Euro-Tech are an asset to any homeowner in the Chicago/Rockford area, adding a touch of style and class that enhances the home's visual appeal. Beautiful inside and out, available in a wide variety of sizes and configurations – including 5-, 6- and 8-foot, two-panel widths and 9- and 12-foot three-panel widths. Beautiful glass styles to complement and enhance any decor or architectural style. Optional brass keylock adds beauty and convenience by allowing you to use your sliding patio door as a primary entrance door.
Euro-Tech's doors are engineered for energy efficiency. We combine fusion-welding, heavy-duty weather stripping and full one-inch thick insulated glass to create a tight, energy efficient sliding patio door. Our Hi R+Plus multi-layer vacuum-deposition soft-coat Low-E glass series allows you to choose from among the best insulating glass systems available.
Euro-Tech's doors are built for maximum security, our unique three-point locking system offers more resistance to forced entry than sliding patio doors with a single lock. With one turn, heavy tempered steel rods lock the door securely at the head and sill while a tempered steel L-shaped hook secures the door at the jamb.
At Euro-Tech our doors are designed for maintenance freedom, no painting or scraping – ever. Our doorpanels are fusion-welded for added strength. They're guaranteed to never work loose or require maintenance.
Euro-Tech entry doors and sliding patio doors will bring comfort, style, and beauty to your home for years to come. Euro-Tech entry doors feature the best in air tight construction that will eliminate leaks, drafts, and ice build ups, plus they save you money on your energy bill. They come in a huge selection of colors, stains and configurations. Our sliding patio doors are virtually maintenance free, they won't warp, sag, or bow, and come with our lifetime manufacturer's warranty. Sliding Patio Doors from Euro-Tech are an asset to any home, adding a touch of style and class that enhances the home's visual appeal. Euro-Tech makes homes in the Chicago/Rockford area beautiful inside and out!
Click Here for a FREE Estimate and learn more about Special Savings opportunities!