Siding Installation Service Provided for Residents of Naperville, IL & Neighboring Communities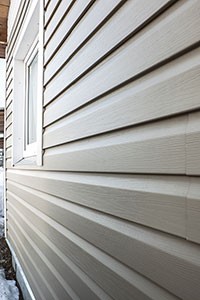 For expert siding installation, homeowners in Naperville, Illinois, and the surrounding areas might consider working with the exterior remodeling experts at Euro-Tech. We offer the incredibly beautiful line of Millrun siding, which is made exclusively for our company by the renowned manufacturer, Crane.  This siding features a true-milled cedar-grain finish, is available in various color options, and comes in both clapboard and Dutch-lap profiles. So, when you choose Euro-Tech for siding installation, you can be certain you are getting some of the most beautiful siding on the market.
In addition to being pretty, the siding that we offer to homeowners in Naperville, IL, has many other benefits. For example, our siding is:
Durable – Millrun siding is 300 percent more impact resistant than comparable siding made from fiber cement.
Energy efficient – Featuring a layer of Neopor® insulation from BASF, Millrun siding can reduce the amount of heat that enters and escapes your home.
Easy to maintain – Unlike siding made from other materials, such as wood and metal, Millrun is made from a special composite material that does not need to be scraped and painted to retain its attractive appearance.
At Euro-Tech, we are known not only for the exceptional cladding that we install, but also for our siding installation service as a whole. We will work with you closely throughout the process to ensure your siding looks exactly as you imagined it would. Plus, our installations are carried out by experienced industry professionals who have to the knowledge needed to ensure that your siding is correctly installed.
For more information about the siding installation service that we offer to homeowners in Naperville, IL, and the surrounding communities, contact Euro-Tech today.