Of the Many Roofing Companies Serving Hoffman Estates, IL, Euro-Tech is the Preferred Choice of Homeowners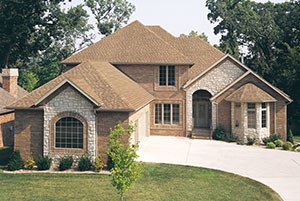 Roofing companies are everywhere. As a result, it can be difficult to decide which one to hire for the job. But for homeowners in Hoffman Estates, Illinois, and the surrounding areas, the choice is easy – Euro-Tech. We've been an established name in the community since 1992, using our decades of hands-on roofing experience to help homeowners choose the right roofing to put on their homes.
Euro-Tech differs from many other roofing companies in Hoffman Estates, IL, and the surrounding communities in more ways than just experience. We are also the only company to offer the Protect the Deck® roofing system, which is a combination of a heavy-duty waterproof underlayment and Heritage Woodgate shingles from the respected manufacturer, TAMKO. The Protect the Deck® roofing system is:
Durable – While the waterproof underlayment will protect your roof deck from water damage, TAMKO's Woodgate shingles are made of a double-layered fiberglass mat and feature weathering-grade asphalt topped with ceramic granules for additional durability.
Beautiful – TAMKO's Woodgate shingles have a wide cut and feature subtle color variations to convey a rustic yet beautiful wood-shake look.
Long-lasting – The combination of the waterproof underlayment and TAMKO's Woodgate shingles make for a roof that will last for years to come. In fact, the shingles are protected by a 30-year warranty, which speaks to their longevity.
Thanks to our commitment on our customers' satisfaction, Euro-Tech has been able to maintain an A+ rating with the Better Business Bureau – an achievement few roofing companies can boast. For more information about why we out-roof other roofing companies in the Hoffman Estates, IL area, contact Euro-Tech today.