Home Siding Installations for Residents in Hoffman Estates, IL & Neighboring Communities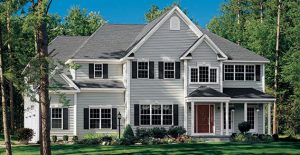 Discerning homeowners who want the best home siding for their residences turn time and again to Euro-Tech. That's because our top-notch siding products and crew of experienced technicians are simply unmatched in the Hoffman Estates, Illinois, area.
At Euro-Tech, we have two different types of composite siding that both offer a plethora of appealing benefits. These two are:
Everlasting Cedar – Boasting all the beauty of real cedar without any of the upkeep, this siding will never warp, crack, wave, or fade and is resistant to damage from inclement weather, wind, impact, and insects and other pests.
Millrun – This type of siding has a classic, uniform appearance, is 300 percent more impact resistant than traditional fiber cement siding, and features a highly energy-efficient layer of Neopor® insulation to reduce heat transfer.
What's more, our home siding is installed by factory-trained and -certified experts who will ensure that every part of your siding installation is carried out flawlessly. Additionally, our technicians will always be respectful of you and your home and will keep the work site free of clutter during and after the installation. Due to our many years of providing Hoffman Estates, IL, homeowners with superior home siding installations, among a number of other notable reasons, we have maintained an impressive A+ rating with the Better Business Bureau.
To learn more about our home siding, contact Euro-Tech and schedule a complimentary consultation today. We are proud to serve homeowners in Hoffman Estates, IL, and surrounding areas.