Turn to Euro-Tech for Superior Roofing Services for Your Hoffman Estates, IL, Home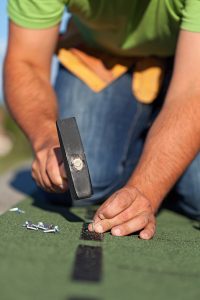 Get the best roofing system available in the Hoffman Estates, Illinois, area by turning to the experts at Euro-Tech. Since our opening in 1992, we have been committed to providing our customers with products and installations of exceptional quality. So, whether you need to replace a few windows at your home, install a roof, or repair your siding, Euro-Tech can certainly help.
At Euro-Tech, we exclusively install our Protect the Deck roofing system. This system comprises:
A Desert Deck® underlayment to provide the ultimate waterproof barrier designed to keep your roof and attic completely dry
Two coats of Moisture Guard Plus® on all valleys and eaves to provide additional protection from water
Heritage Woodgate Asphalt Shingles from TAMKO
We use TAMKO shingles for our roofing system because of the many benefits they provide. For instance, these shingles feature two layers of fiberglass mat for enhanced durability and are topped with ceramic minerals to prevent erosion. TAMKO's Woodgate shingles are also available in six different colors and are wide-cut to convey an authentic wood-shake appearance. So, if you want a roofing system that protects your Hoffman Estates, IL, home from moisture damage and features gorgeous shingles, you'll want to invest in our Protect the Deck system.
If you would like to learn more about our roofing system, contact Euro-Tech today and schedule a free in-home consultation. We proudly serve homeowners in Hoffman Estates, IL, and the surrounding areas.