Euro-Tech Distinguishes Itself from Other Roofing Companies in Waukesha, WI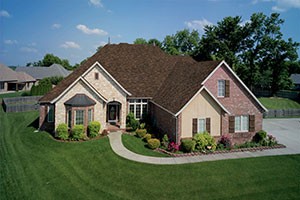 Of all the roofing companies in Waukesha, Wisconsin, and the surrounding areas, homeowners consider Euro-Tech one of the best. This is because we are committed to providing exceptional customer service and beautiful products that can be relied on for years to come. Supporting these claims is our A+ rating with the Better Business Bureau – an accomplishment only achieved by roofing companies that can consistently make customers happy.
At Euro-Tech, we are proud to offer our exclusive Protect The Deck Roofing System®, not available from any other roofing companies in the Waukesha, WI, area. The Protect The Deck Roofing System® combines durable components to create a long-lasting roofing system. These components include:
Hand-nailed Desert Deck® underlayment to protect the roof deck from water
Two coats of Moisture Guard Plus® in all valleys and eaves for protection from dampness
TAMKO's Heritage Woodgate shingles, which have two layers of fiberglass matting for strength
Euro-Tech installs the Heritage Woodgate line of shingles from TAMKO not only because they are incredibly durable and come backed by a 30-year limited warranty, but also because, when installed, they convey a beautiful wood-shake look that can set any home apart from others in the neighborhood. Plus, these shingles are available in myriad colors, so there's an option to suit everyone's taste.
For more information about how Euro-Tech is different from the other roofing companies in Waukesha, WI, contact us today. One of our knowledgeable representatives will be glad to assist you.