Professional Roofers Serving Homeowners in Schaumburg, IL & Surrounding Areas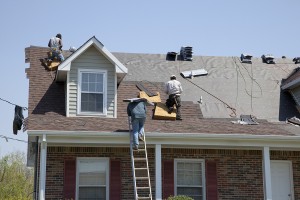 The sheer number of roofers operating in Schaumburg, Illinois, can feel overwhelming when you need roofing services for your home, but there's one company that outshines the rest – Euro-Tech. Our roofers are all factory trained and always stay up to date on the manufacturer's best practice installation guidelines. Additionally, our roofers place a premium on respecting your home and keeping it tidy before, during, and after your roofing project. In fact, we will cover your home in tarps and will utilize dump trailers in place of dumpsters to prevent any damage being done to your house or driveway.
Along with a superior installation service, you will also receive a top-quality roof on your Schaumburg, IL, home when you choose Euro-Tech. That's because we've developed the Protect the Deck Roofing System. This advanced system comprises a Desert Deck underlayment, which provides the utmost in protection against water damage, and TAMKO's Heritage Woodgate shingles. Our roofers use these shingles because they are:
Wide cut and have enhanced shadow lines to convey an authentic wood-shake look
Available in six gorgeous colors
Reinforced with two layers of fiberglass matting for added strength and durability
Topped with erosion-resistant ceramic minerals
Coated with Moisture Guard Plus to protect the roof from water, ice, and snow damage
These shingles are also backed by a phenomenal 30-year limited warranty so you can rest assured that your investment in this roofing system is protected.
For roofers that outshine the competition, contact Euro-Tech today. We proudly serve homeowners in Schaumburg, IL, and neighboring areas.