Home Siding Installed for Homeowners in Naperville, IL & Neighboring Communities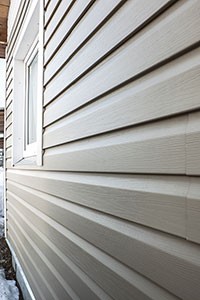 When the time comes to install new home siding on your house in Naperville, Illinois, consider that offered by Euro-Tech. We're the exclusive dealer of a specially formulated composite cladding made my Crane, Millrun siding. With exceptional insulating properties, our siding can reduce the amount of heat that transfers into and out of your home throughout the year, which can take a load off of your HVAC system and potentially save you money on monthly energy expenses.
In addition to energy efficiency, the home siding offered by Euro-Tech boasts an array of other benefits for homeowners in Naperville, IL, and the surrounding areas. For example, Millrun siding:
Doesn't have to be painted regularly as many competing materials do
Is 300 percent more impact resistant than fiber cement
Has a true-milled cedar grain finish, which mimics the beauty of natural wood
Is available in multiple colors
Will diminish the outside noise that infiltrates your home by up to 45 percent
Is protected by an outstanding non-prorated, fully transferable lifetime warranty
At Euro-Tech, we strive not only to provide the most technologically advanced products on the market, but also to provide expert installations. After all, even the prettiest, most energy-efficient home siding in the world wouldn't be as pretty or energy efficient if improperly installed. That's why we use factory-trained and -certified siding technicians for our installations. This way, we can ensure that your siding is installed according to its manufacturer's specifications.
For more information about the home siding that Euro-Tech offers to residents of Naperville, IL, and the surrounding communities, contact us today. Don't forget to ask about the convenient financing options that are available to qualified homeowners.