Roofing Companies Serve Naperville, IL & Nearby Areas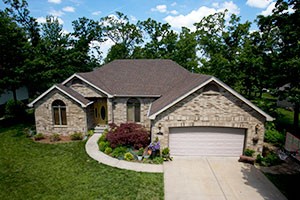 Roofing companies might swarm the market, but one stands out from all the rest – Euro-Tech. We've served residents of Naperville, Illinois, and the surrounding areas since 1992, offering more than 100 years' worth of combined experience in the exterior remodeling industry. Moreover, we strive to provide our customers with technologically advanced products that are effective, look beautiful, and are made to last.
For example, unlike other roofing companies serving residents of Naperville, IL, and other nearby communities, Euro-Tech offers our exclusive Protect the Deck® roofing system. Composed of a heavy-duty, waterproof underlayment and durable WoodGate shingles made by TAMKO, our roofing system provides protection from water damage plus all the benefits of TAMKO's WoodGate shingles, which include:
A beautiful design that mimics the appearance of traditional wood shakes
Availability in multiple color selections
Durability provided by double layers of fiberglass mat
Erosion protection provided by weathering-grade asphalt topped with ceramic minerals
Investment protection with TAMKO's 30-year limited warranty
In addition to providing our customers with long-lasting roofing materials, Euro-Tech is also committed to providing expert installations – and here is another area in which we differ from many other roofing companies. We offer installation services from factory-trained and -certified roofers to ensure that your new roofing is installed according to best practices.
If you're in the process of interviewing roofing contractors in Naperville, IL, or any nearby Chicagoland community, contact Euro-Tech today to schedule your free consultation and estimate. And, don't forget to ask about the convenient financing options we offer to qualified homeowners.