Would you like Euro-Tech to Install an Energy-Efficient Bay Window at Your Home in Milwaukee, WI, or a Nearby Area?
We would love to.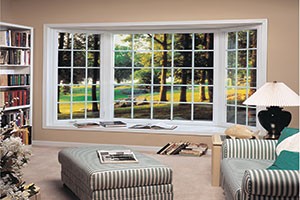 If you would like to have a beautiful, energy-efficient Bay Window Milwaukee Wisconsin installed at your home, look no further. Euro-Tech installs windows from the acclaimed manufacturers, Great Lakes Window along with Composite windows from OKNA. Both companies manufacture windows and are available in double- and triple-pane configurations and can be customized to include inert gas fills between the panes and low-E coatings to provide the utmost energy efficiency.
Energy efficiency isn't the only benefit that a bay window from Euro-Tech will provide for your home in Milwaukee, WI. Others include:
Durability and low-maintenance – Our windows' frames are made from either vinyl or an amazing material called Advanced Polymeric Composite or APC, both are naturally durable and low-maintenance materials. We only believe in installing products that don't rot or rust and will never need to be scraped and painted. Why upgrade your home to create more maintenance? We love maintenance free don't you?
A beautiful appearance – Our windows are some of the most customizable on the market. You will be able to choose from different specialty glass panels, grid patterns, and beautiful hardware to create a bay window that truly matches your home.
Did we mention, Dogs and Cats LOVE sitting in our Bay Windows?
Euro-Tech is a full-service exterior remodeler that is fully committed to our customer's satisfaction. Please choose us for your window installation. You will witness why we maintain an A+ rating with the Better Business Bureau.
To inquire about having a Bay Window installed for your home, contact Euro-Tech today and one of our talented staff will be happy to assist you. We are proud to be the window installer of choice for many residents throughout Milwaukee, WI, and the surrounding areas. Call us at 800-215-8712.