Exterior Siding Installed for Homeowners in Naperville, IL & Surrounding Communities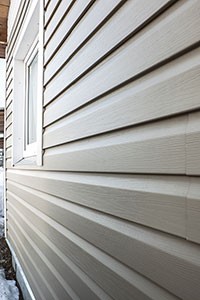 If you are looking for new exterior siding for your home in Naperville, Illinois, or another nearby area, consider working with the exterior remodeling experts at Euro-Tech. We are proud to be the exclusive dealer of a specially formulated composite siding manufactured by Crane, called Millrun Siding. This high-performance cladding features Neopor® insulation from BASF, which can reduce the thermal conductivity of your walls and create a more comfortable indoor living environment year-round.
In addition to being energy-efficient, the exterior siding offered by Euro-Tech is:
Beautiful – With a true-milled cedar woodgrain finish, Ascend Exterior Siding from Alside® offers a classic American aesthetic that will surely beautify your home.
Durable – Ascend siding is 300 percent more impact resistant than fiber cement and it's backed with a spectacular non-prorated, fully transferable lifetime warranty.
Easy to maintain – Unlike wood and some other types of cladding, Ascend composite siding doesn't have to be painted or scraped, which can save the time and money otherwise spent on these recurring tasks.
Ascend Exterior Siding also has adds both insulation and protection from drafts and insects to your home. Why just "fix" your home when you can TRANSFORM your home. Go from drafty to air-tight. Go from un-insulated to INSULATED.
At Euro-Tech, we not only provide industry-leading exterior siding, but also expert siding installation. In fact, all of our installations are carried out by experienced industry professionals, so, with us, you can be certain that your siding will be installed the right way, the first time.
For more information about Ascend exterior siding that we install for homeowners in Naperville, IL, and nearby areas, contact Euro-Tech today. When you do, ask to schedule your free consultation and estimate. We offer many competitive financing options from both local and national lenders. Call us today at 800-215-8712.