Beautiful Front Doors Installed for Homeowners in Schaumburg, IL & Neighboring Communities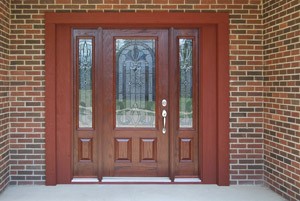 When it comes to front doors, there's no company better to turn to than Euro-Tech. We have served homeowners in Schaumburg, Illinois, since 1992, working closely with each and every customer to put a beautiful door on every home. Our process begins with a free consultation, during which we learn about the features and aesthetic that are needed for the door. After, we will guide you through our product selection, helping you select the right components to build a beautiful door for your home.
At Euro-Tech, we offer front doors made by one of the industry-leading manufacturers, Home Guard Industries. These doors are available in a vast amount of configurations for homeowners in Schaumburg, IL. For example:
Home Guard Industries offers a diverse selection of 26 families of doors.
The doors can be painted in one of twenty decorator colors or seven hand-applied stain finishes.
Hardware options are limitless, as Home Guard Industries has a broad selection of knobs, levers, handle sets, peepholes, knockers, kick plates, mail slots, and more.
In addition to being customizable, the front doors that we offer are the some of the best in the industry when it comes to home security and energy savings. Our doors are available in both steel and fiberglass construction and have an R-rating of 15.1 – higher than some walls. Plus, you will have the choice to opt for security features such as an 18-gauge steel frame, deadbolt security plates, high-security six-pin locks, and laminated safety glass.
For more information about the front doors that we install, contact Euro-Tech today. We are proud to be the exterior remodeling company of choice for many homeowners throughout Schaumburg, IL, and the surrounding areas.