Have a Custom Entry Door Installed at Your Home in Belvidere, IL, or Neighboring Community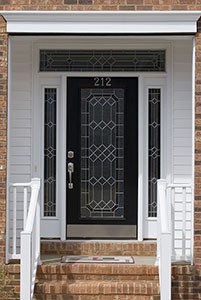 If you would like to have a custom entry door installed at your home in Belvidere, Illinois, or a nearby area, turn to Euro-Tech. The Front Entry Doors we install for our customers, are truly WOW front doors. We call them WOW doors because that is the reaction they produce.
Founded in 1992, Euro-Tech is a full-service exterior remodeling company with decades of experience in the industry. During a free consultation, we will be happy to discuss the many different entry door options available. Then we will offer a complimentary estimate in the comforts of your home. We even can provide competitive low interest financing through one of our partner participating lenders.
At Euro-Tech, we are committed to providing our customers with highly customized doors that are made to last. That's why we choose to offer doors from Home Guard Industries (HGI). Just a few of the ways in which our doors can be tailored include:
Style – HGI has a spectacular collection of 26 door types, each of which is available in multiple door styles.
Color and finish – Choose from HGI's 20 decorator colors or seven hand-applied stained finishes to find the look that complements your home.
Hardware – HGI offers varying styles of door knobs, mail slots, hinges, peepholes, kick plates, and more.
Glass – From intricate textures to plain glass, HGI offers dozens of glass styles to choose from for your new door.
In addition to experience and custom doors, Euro-Tech offers expert entry door installation. Our doors are installed by experienced industry professionals who ensure that every installation is completed in accordance with the best-practice guidelines recommended by the manufacturer.
Contact Euro-Tech today for more information at 800-215-8712 about the entry door options we offer to homeowners in Belvidere, IL, and the surrounding communities.