If you are looking for a durable, beautiful, and energy-efficient roofing option, you might want to consider StormMaster Shake shingles from Atlas Roofing. These shingles are designed to withstand harsh weather conditions, resist algae growth, and enhance the curb appeal of your home. Here are some of the benefits of using StormMaster Shake shingles for your roof: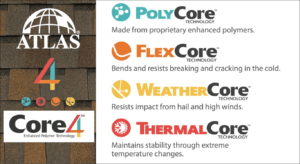 Superior Protection Against Hail and Wind
StormMaster Shake shingles are made with Core4 Technology, which features a scientifically engineered asphalt core that provides outstanding strength and performance. These shingles have a Class 4 impact resistance rating, which is the highest rating for asphalt shingles. This means they can withstand hailstones up to 2 inches in diameter without cracking or breaking1. They also have a 130 mph wind warranty, which means they can resist high winds and uplift forces1.
Algae Resistance and Color Retention
StormMaster Shake shingles feature Scotchgard Protector from 3M, which contains copper-containing granules that prevent algae growth on your roof. Algae can cause ugly black streaks and stains on your roof, reducing its beauty and value. With Scotchgard Protector, your roof will stay clean and vibrant for years to come1. These shingles also come in an array of beautiful colors that match any architectural style. You can choose from shades of black, gray, brown, tan, and more1.
Energy Efficiency and Cost Savings
StormMaster Shake shingles have ThermalCore Technology, which is an elastomeric modifier that enhances the shingles' flexibility and thermal stability. This means they can expand and contract with temperature changes without cracking or curling. ThermalCore Technology also improves the shingles' solar reflectance, which means they can reflect more heat away from your roof and reduce your cooling costs in the summer2. Additionally, StormMaster Shake shingles may qualify you for insurance discounts or rebates, depending on your location and provider. You can save money on your premiums by choosing a roofing option that offers superior protection against hail and wind damage1.
Easy Installation and Warranty
StormMaster Shake shingles are designed with HP42 Technology, which features a wide format that covers more area per shingle. This reduces the number of shingles needed for installation and saves time and labor costs. StormMaster Shake shingles also have a Sweet Spot nailing area and a double FASTAC sealant line that ensure proper placement and adhesion of the shingles1. StormMaster Shake shingles come with a lifetime limited warranty that covers manufacturing defects and algae resistance. You can also get a premium protection period of up to 15 years that covers labor and material costs in case of any issues1.
Conclusion
StormMaster Shake shingles are a smart choice for homeowners who want a roofing option that offers durability, beauty, energy efficiency, and cost savings. These shingles are made with innovative technologies that provide superior protection against hail and wind damage, algae growth, and thermal stress. They also come in a variety of colors that enhance the curb appeal of your home. If you are interested in installing The most Storm Resistant Shingles on your roof, contact us today for a free estimate.