What is Neopor?
Welcome to the world of Neopor® GPS – S.M.A.R.T. insulation!
Neopor® GPS – S.M.A.R.T. Insulation for Your Home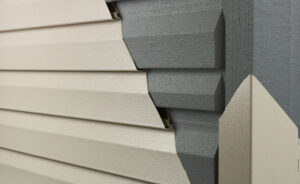 BASF Neopor® GPS is a graphite polystyrene (GPS) rigid foam insulation that gives maximum efficiency, cost-effectiveness and sustainability on construction projects. It's unique silver-gray color and exceptional insulation characteristics are a result of high-purity graphite that reflects and absorbs radiant energy, decreasing the materials thermal conductivity and increasing its R-value.
Silver-Grey Neopor® GPS is comprised of many small pockets of air within a polymer matrix containing graphite. The graphite reflects radiant heat energy like a mirror, increasing the material's resistance to the flow of heat, or R-value.
Most polymer-based foams exhibit a greater ability to slow the movement of heat as the temperature decreases. Neopor® GPS is in a unique class because it increases in R-value as the temperature outside drops.
Stability and Durability:
Adaptable in size, thickness, shape, and density
Consistently delivers the highest true R-value performance over time
Moisture-management:
Breathable and semi-permeable high-performance insulation
Helps reduce the risk of mold, rot, and structural damage associated with moisture condensation and long-term water retention
When added as a component to Exterior Siding it is designed to move water away from home
Adaptable to all climate zones:
Powers up when it gets cold outside
Increases the temperature of inside surfaces for better indoor climate
Reflects heat when it is hot outside
Thinner boards achieve the same effect with less material
Resource-efficient:
Uses up to 30% less material than other rigid foam insulation to achieve the same R-value
Saves on building materials and installation labor
Third-party validated and certified:
Earned GREENGUARD Gold Certification
Referenced by The Collaborative for High Performance Schools (CHPS) and LEED® Building Rating System
What is Neopor®? Well….
Highly effective insulation solution for stability, durability, and moisture-management, along with insect resistance.
A perfect fit for all homeowners looking to increase value and beauty to their home.
Adaptability, resource-efficiency, and third-party validation make it an excellent choice for any homeowner
To learn more about Neopor® just give us a ring at Euro-Tech 800-215-8712 or fill out our Contact us form.