The Benefits of Installing New Entry Doors: Information for Residents in the Naperville, IL, Area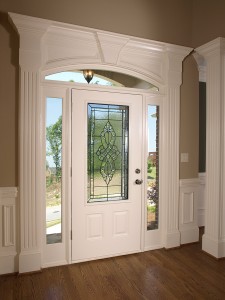 Entry doors are an important part of many homes in the Naperville, Illinois, area – they serve as a first impression when neighbors are visiting and provide security against unwanted visitors. Homeowners should consider investing in new entry doors for their homes because of the many benefits they offer, such as:
Boosted curb appeal – Doors with faded colors and scuff marks can make entire houses appear unattractive, but new doors with vibrant colors and elegant glass patterns can make entryways more beautiful and inviting to guests. Homeowners can even add attractive and functional features, such as peep sites, kick plates, knockers, and pet doors to suit the needs of their household.
Enhanced security – Doors fabricated from wood (a common material used for entry doors) are very susceptible to impact damage and potential kick-ins. Wood doors also invite insects that eat and burrow into wood. Naperville, IL, residents should consider investing in new doors crafted from steel or fiberglass that are exceptionally durable.
Energy Efficiency – Older doors can be drafty and do a poor job of preventing heat transfer from occurring. When hot air can easily escape homes in the winter months and enter them during the summer, HVAC systems struggle to maintain a constant interior temperature, which causes monthly energy bills to skyrocket. New doors will often have superior weatherstripping that helps prevent heat transfer and can perhaps lead to lower energy bills.
Homeowners who would like to install new entry doors at their houses should contact the professionals at Euro-Tech. We are a full-service exterior remodeling company with extensive experience installing new doors from Home Guard Industries. These doors are available in both fiberglass and steel, are energy efficient, and have a customizable aesthetic.
Contact Euro-Tech today to learn more about our entry doors. We proudly serve residents in Naperville, IL, and surrounding communities.